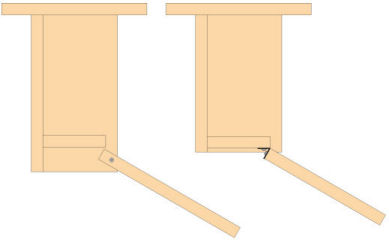 After years of field testing with excellent results, the poly hinge is now considered a viable alternative to the conventional screw pivot method of hinging nestbox doors.

The material is extremely durable - it's been tested to over a million cycles. And it's easy to install, it won't rust and the material is easily cut to length with scissors.

The poly hinge system allows us to build a nestbox with a bottom hinged door with only a 1/4" floor recess. Bottom pivoting doors with conventional screw pivots require a deeply recessed floor, usually 1 1/2", which provides a cozy niche attractive to paper wasps (see diagrams at left).

If you want to change a nestbox with a top pivot door (one that opens from the bottom up) you can easily convert it to a bottom pivot with this hinge.

You can order this material online from US Plastics.com
(Note: currently the 1 1/2" wide hinge material is available in white only)

Step-by-step Installation
1 - Determine installation type
The nestbox door panel and the hinge mounting surface (usually the floor) should be flush. There are two ways to do this:

Option A
Cut the door panel flush with the nestbox floor.

Option B
Place a wood shim, the same thickness as the floor recess, beneath the hinge.

2 - Cut hinge to length
Cut a strip of hinge with scissors, approximately 1/2" less than door width. Drill (4) clearance holes (1/4" dia.) in the hinge, 3/8" in from the long edges. This will center the hinge holes in the door panel. If you are using material thicker than 3/4", adjust accordingly. Here we've offset the holes so the screw heads are not directly opposed.

3 - Install hinge to door
Place the hinge on the bottom of the door, align, and drill 1/8" pilot holes in the door. Fasten the hinge to the door using #8 x 1" lathe or truss head screws.

Note: these types of screws, often called "washerhead" screws, provide additional holding power. And they allow us to drill a clearance hole in the hinge for minor adjustment.

4a - Door flush with floor
Place the door/hinge assembly on the box. Drill 1/8" pilot holes in the floor, using the hinge holes as a template. Fasten the the hinge/door assembly with #8 x 3/4" lathe or truss head screws.

Important - if your floor is less than 3/4" thick, add a washer under the screw to prevent the screw head from protruding into the nestbox cavity.

4b - With shim under hinge
Place the shim and the door/hinge assembly on the nestbox floor. Transfer the hinge hole locations to the shim, then drill 1/4" diameter clearance holes in the shim (this will prevent the screws from splitting the shim). Place the shim and door hinge assembly back on the nestbox and drill 1/8" pilot holes in the floor. Fasten with #8 x 1" lathe or trusshead screws.